About the project
Making Spaces is a research project based at UCL. Working with makerspaces in five countries, the project identifies and shares equitable practice to support diverse young people's engagement with STEM.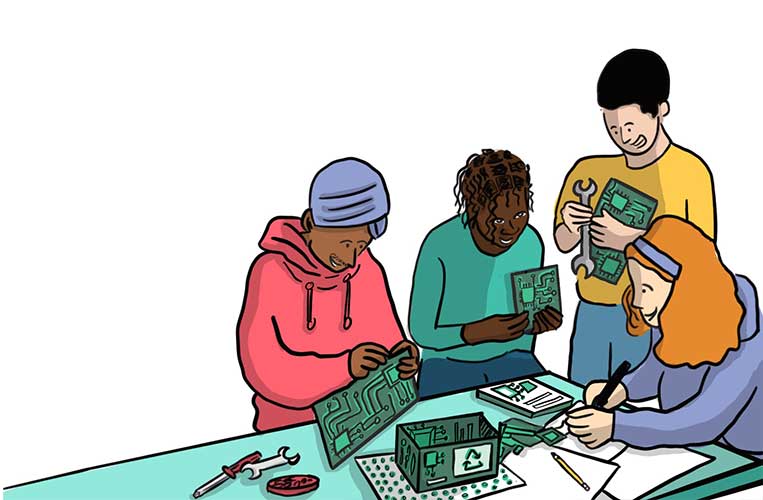 Makerspaces are informal sites for collaborative hands-on learning and creative production, with or without tools. These innovative learning spaces offer the opportunity to share materials, skills and ideas to address technological, personal, and societal goals.
These spaces have the potential to offer valuable opportunities to underserved and underrepresented young people who are typically marginalised from mainstream engineering, science and technology. The Making Spaces Project, led by Professor Louise Archer (UCL IoE), and funded by Lloyd's Register Foundation, seeks to support equitable youth practice within the sector to enable more makerspaces to fulfil these aims.
Makerspaces need accessible new understanding and resources to support inclusive STEM (Science, Technology, Engineering and Maths) participation that in turn can address societal challenges, empower learners and communities. This project identifies effective, inclusive practices for supporting makerspaces to engage with young people in making for social change.
The project partners with seven international makerspaces in the UK, USA, Nepal, Slovenia, and Palestine to extend understanding of what socially-just makerspace youth practice entails and translate this into practical resources for implementation.
Working collaboratively, researchers, practitioners and youth from under-represented communities we will:
Test out and extend existing equitable practices within our partner makerspaces.
Translate insights into co-produced, practical, and accessible resources that can be used across global makerspace contexts.
We aim for the resulting outputs and resources to inform and improve international STEM education policy and practice in and beyond makerspaces.